About Shoalnook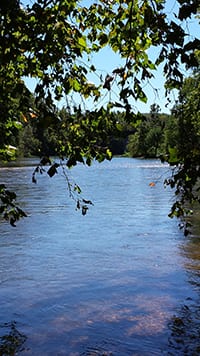 Ever feel like you need to get away? Need a place of peace, rest and recreation? Shoalnook has a little something for everyone! If you're an individual, couple or a family looking for fun and relaxation, this is your place. Maybe you're needing a place for a group for a family reunion, or a retreat. All four cabins could be rented at once, sleeping 24-32 people.
James River has long been known for its waters teeming with fish; 71 varieties, give or take a few. Smallmouth, largemouth, white bass, crappie, channel cat and trout are in abundance. Spoonbill run up the river in March and white bass from late-March to mid-April.
We offer daily kayak rentals and there are a number of canoe rental businesses within blocks of the cabins.
Our Cabins
This cabin sleeps 6 comfortably with twin and full beds both downstairs and up. You can bring sleeping bags or twin air mattresses for 2 additional people upstairs. Cabin 1 also has a wheelchair ramp.