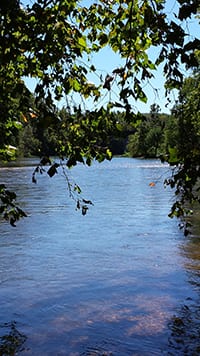 Ever feel like you just need to get away? Need a place of peace, rest and recreation? Shoalnook has a little something for everyone! If you're an individual, couple or a family looking for fun and relaxation, this is your place. Maybe you're needing a place for a group for a family reunion, or a retreat. All four cabins could be rented at once, sleeping 24-32 people.
James River has long been known for its waters teeming with fish; 71 varieties, give or take a few. Smallmouth, largemouth, white bass, crappie, channel cat and trout are in abundance. Spoonbill run up the river in March and white bass from late-March to mid-April.
We offer daily kayak rentals and there are a number of canoe rental businesses within blocks of the cabins. Maybe you'd rather wade and swim. Well, you can easily do that, too! As a "rock hound", I've spent hours on the bank combing the variety of rocks but our "find" was when my husband just looked down and there was an arrowhead! If you're an avid bird watcher, with bald eagles nesting along the river, you're in for a treat. With Missouri known as the "cave state" it's no wonder the river is riddled with them. There are caves to explore (always be mindful and respectful of people's property rights.) Our beautiful acreage with the river and backdrop of the historic "Y Bridge" offers the perfect setting for photographers of all calibers. And if all that isn't enough, play frisbee or horseshoes on the sprawling lawn, or you could just enjoy a book in the cool breeze on the porch of the cabin.
Did I mention that Branson West is a mere 11 miles away? All the shopping, shows and Silver Dollar City a person could want.
So, what are you waiting for? Book your cabin and enjoy Shoalnook!
P.S. If you like cabin decor, please take a minute and visit our Cabin Medley Store for some great gift ideas!
Our History
Shoalnook, originally named Pop's Retreat, was built by Joe Templeton. He and wife Tenoha owned and operated the cabins until July 2014.
Joe bravely served our county in the Vietnam war and also served the city of Galena as Mayor.
Joe never knew his biological father but was adopted at age 5 and loved dearly by "Pop." Joe's father, George Templeton, loved the land on which these cabins were built.
The cabins were completed after Pop's passing and were named Pop's Retreat in honor of his father. He taught him the love of fishing and skill of plumbing. We are grateful for Joe's work and dedication, which has provided many with a place of peace, recreation and rest.